In addition to an overload of turkey every Thanksgiving table I've sat at has had some sort of gratitude practice.
Sometimes, this takes the form of going around the table where people can express things that they are thankful for. Other times the host could lead a prayer, one might call for a simple toast with a simple expression of something they are grateful for.
2020 is a year where many people find it easier to voice their gripes rather than their gratitude. Finding justifications is not hard.
So perhaps it's of particular importance this year that the Thanksgiving holiday is an opportunity for change.
Whether it's a simple prayer, an act of charity, a note of appreciation to friends, family, colleagues, or my favorite: a toast with overflowing champagne flutes — giving thanks isn't just for Thanksgiving.
Giving thanks is an instrumental step of wealth attainment and increase.
My challenge to you is this:
Increase the frequency of giving thanks.
If you're only giving thanks during Thanksgiving, find some ways to step it up.
If you already have a gratitude practice, find a way to increase your frequency.
Look for triggers. did you just catch yourself reciting a list of your complaints inside your head? Take immediate evasive action and Breakout with a new gratitude practice.
Did one of your investments just fall off the turnip truck? Before you curse all those idiot short sellers, take a second to find a facet of your gratitude.
Are you kids trying to kill each other? Take a deep breath and find something around the house that you are glad you own. Appreciate its beauty (utility, simplicity, complexity, taste, color, texture…whatever)
Here's my new trick: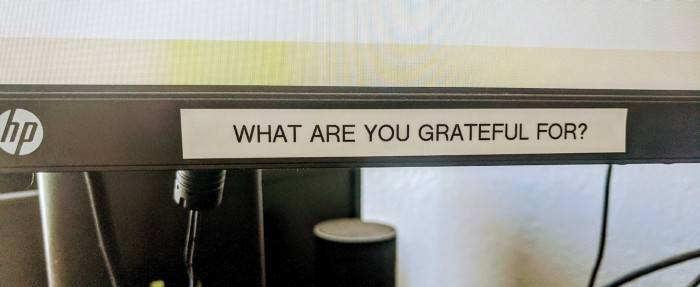 That's the bottom of my computer monitor, right in front of my face. I have 90,000 photos on my computer. About 3,000 of those are tagged as favorites. I have a photo screensaver which displays my favorite photos and my screensaver is set to come on after only 5 or 10 minutes of inactivity. This trick will work with just a few photos too! I am reminded to be grateful for whatever that picture expresses. Then, I look for other things to be thankful for.
They tend to become easier to find, and that is perhaps where the magic resides.

James Damschroder
James' professional orientation points at the zenith (and sometimes nadir) where technology and investments intersect. He is a Fintech entrepreneur and has served twenty years of a lifetime sentence.
James is a patented inventor, quant pioneer and investment manager. He is the founder of Gravity Investments, a unique investment and technology services firm centered on James' inventions for diversification measurement, optimization, visualization, and analysis. In the development of the platform, James has pioneered A.I applications, diversification attribution, down-side diversification, portfolio re-optimization, full-lifecycle strategy optimization, programmable investment policy statements and core-satellite optimization techniques.
In working with advisors, funds and money managers as both a strategic sub-advisor and software consultant, James has consulted and trained hundreds of professional investors on portfolio design and optimization. James has a unique ability to look at any investment process and find practical, intelligent and often quantifiable opportunities to improve the investment product.
Inspired by the work of Nobel Laureate Harry Markowitz and the efficient frontier, James has championed and pioneered the science of diversification.  James' technology has advised
or assisted in over 30 Billion dollars of investor capital. His vision of a more perfect investment management system is at the heart of Gsphere ( www.gsphere.net )
His passion for performance, curiosity for the unknown, and drive to excel empower his service to investors.
James is Founder and CEO of Portfolio ThinkTank (the B2C company) www.portfoliothinktank.com, Founder & Chief of Financial Engineering at Gravity Investments www.gravityinvestments.com (the B2B company) and Chief Investment Officer at Gravity Capital Partners, a wholly owned SEC Registered Investment Advisor.